Are you still on the fence about whether it's worth your time and money to upgrade to a mobile friendly website? 
It seems obvious that the majority of people own and use smartphones. What may be less obvious is that purchases, and research for purchases, are increasingly being done on mobile devices.
If you use your website for any business-related activity at all, you need it to be mobile friendly. Even if you're a bricks and mortar store – your customers are probably finding you through their internet research.
I drummed up some info and data around this topic, partly to create some fun graphics (designer-geek), but mainly to see how the move to browsing on devices affects business owners. And to explore what we should all be thinking about with our website designs.
A caveat however….I'm not a statistician, and I've done my research through internet searches. I've tried to keep the sources relevant and current, but I can't  verify for their absolute accuracy.
With that in mind…let's get going.
Percentage of population who own smartphones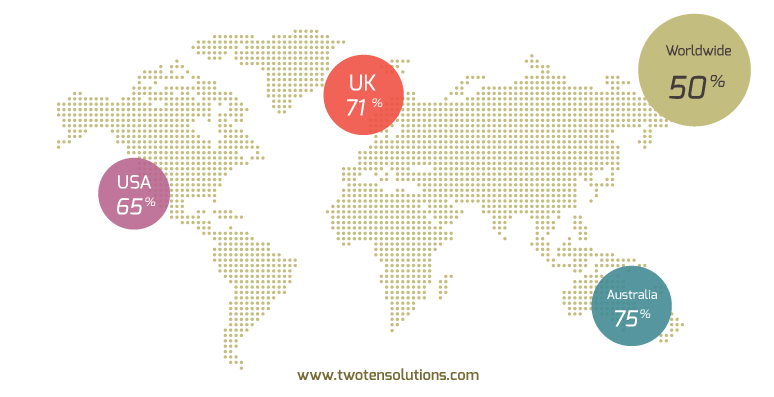 Sources: Percentage of worldwide & USA smartphone users; Percentage of Australians owning a smartphone
To be honest, this surprised me a little. I thought it would be higher than this. Anyway….that aside, the key takeaway here is that lots and lots of people have smartphones!
Mobile usage trends
In 2014, mobile internet usage outdid desktop for the first time.
Global internet searches on desktop vs mobile
What this means for you:
Your potential clients and customers are more than likely on their devices while they are searching for what it is you offer
If your business doesn't have a mobile friendly website, you are creating a barrier preventing them from purchasing from you
Stuck for ideas for your site? This article discussing website features for your small business site has some tips to help you convert visitors into leads and then clients or customers
Mobile friendly websites for e-commerce and retail businesses
A survey completed by Google and Nielsen looked at consumers' mobile habits in the online shopping process. They looked across a number of specific industries including restaurants, electronics and travel. Let's have a little look at how it breaks down:
Use of mobile devices for online shopping research
93% of people who used mobile to research, go on to make a purchase
What this means for you:
If your site appears on your potential customer's search journey, you have a strong chance of converting that visit into a sale
If your site isn't mobile friendly, you are driving customers (and profits) away
Your site must have clear and easy navigation – if a visitor to your site wants to purchase something, make it easy for them to do it right then and there
74% use search as their starting point
What this means for you:
You need to rank organically – understand how SEO works and how to apply it, or make sure that your web designer does this for you
Consider using PPC ads if appropriate for your business – be there in front of potential  customers when they are looking for you
Keep search terms relevant – there's no point ranking on page 1 of Google for a search term that's not really key to your business. You'll attract visitors, but they won't be the right sort of visitor
69% expect bricks and mortar business to be within 5 miles
What this means for you:
If you have a physical shop, optimise your site and SEO focus to target customers local to your business
Utilise Google location extensions – set up your address and contact details
59% of consumers use their mobile device to do research throughout the purchase process
What this means for you:
Consumers visit business websites on average 6 times in their purchase process
Your site, therefore, needs to work well on mobiles and desktops
If you don't have a mobile friendly website, more than half of potential customers will be turned off or move on to your competitor
55% want to purchase within an hour, 83% want to purchase within a day
What this means for you:
Your site needs to be easy to purchase from, whether the user is on desktop or mobile
Ensure your site is logical so that they can easily access checkout and purchase options
Make it easy for them to find your contact details and address if you have a physical space you are sending them to
Ensure you have a Click-to-call link working on your site – this article explains how to add the snippet of code
Mobile friendly websites for service-based businesses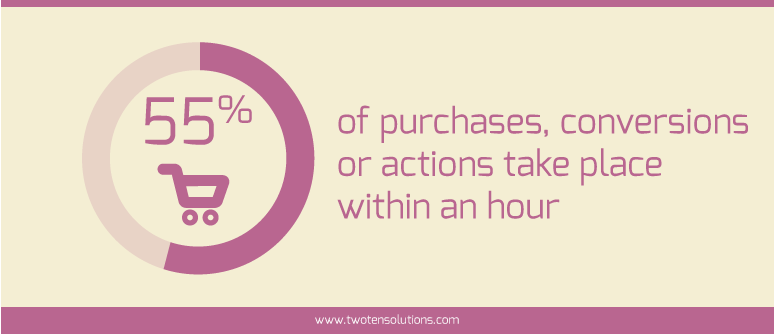 Source: 55% of purchases, conversions or actions take place within an hour
What this means for you:
Make it easy for your visitors to find what they are looking for on your site
Have clear Call To Actions to capitalise on the impulsive nature of their visit
Consider using pops-up and email opt-ins to get their details and maintain contact with them
Rethink long, complicated forms, as they will probably lose interest, or get frustrated, and move on
Source: 77 percent of mobile searches occur at home or work—even if a PC is nearby and readily available
What this means for you:
Users are doing searches on their mobile devices because it's easier and more convenient for them
Your site needs to be responsive to their mobile experience
Cut down on clutter, always consider your site design from a mobile as well as desktop experience
Source: Mobile now accounts for 44.8% of ad impressions, 50% of clicks, 46% of spend and 43% of conversions
What this means for you:
Design your ads to be clean, easy to read on small devices, and with a clear CTA
Source: Nearly half of all emails are opened on smartphones and tablets
What this means for you:
If you're running any sort of email campaign, your email design needs to work well on mobile devices
Check any templates or designs you are using to ensure they work well on different devices
Source: 91% of smartphone users access their emails at least once a day
What this means for you:
Make  sure all emails being sent as part of your marketing campaign are mobile optimised
Consider user experience on emails in the same way as your main site
Use Call-To-Actions to encourage your subscribers to interact with your site
Keep the layout clear, uncluttered and logical
In conclusion
In answer to the question at the very top of this post, clearly we have to say a resounding YES. Whether you're selling goods or services, you have to respond to the browsing habits of your consumers and clients, by having a mobile friendly website.
Any other ideas around this? Please feel free to comment below!
Most Recent Posts